| | | | |
| --- | --- | --- | --- |
| | | School sports schedule | |
| | | |
| --- | --- | --- |
| | | |



Online management of school sports schedule.




Sports department's new administration tool


Sports noticeboard allows for schools to manage and organise their entire sports schedule, resources and students online.

Within the school, the sports masters, age group coordinators and students can be managed via the sports noticeboard website. The administration of team management, allocation of sports resources and handling of the entire sports schedule has now been streamlined.




School Sports Calendar



To effectively manage your school sports use the sports noticeboard which is designed to make your life easier.

The sports noticeboard allows you to manage your entire school events at all levels.

To begin with you can make available on the sports noticeboard your school sports calendar showing :

When major torments are being held such as finals for the tennis
Registrations for various sports will be held
Age group carnivals are being held
End of term parties


This provides a one page summary where all the students, parents, administartors, coordinators can check what school sports have been scheduled.




School sports calendar



Age group sports schedule



Beneath the school sports calendar is the age group or specific sports calendar. All the tennis teams, under 13ís sports teams, coaching teams would all be included in these calendars.

This allows :

easy management of an age group
view all the games being played this weekend for the tennis teams
have a list of all the participants who are in the under 14's
the parents have a definitive, up-to-date list of contacts
a complete list of status of all games being played, how many have RSVP'd, where the match is, what time and the oppenents
coordinators can broadcast messages to the entire age group / sports teams


Now everyone is on the same page of what is happening in their sports.



Age group / sports calendar


Team sports noticeboard


For each team within the school, they have their own team sports noticeboards so that they can manage their sports team online.

The team can :
view all their games for the season
access a up-to-date list of all the team player
a discussion forum
list of resources that the team uses
the coaches and support staff of the team
manage a list of results

By using the sports mobile app, particpants can access the sports noticeboard to find where their games are and update their availability.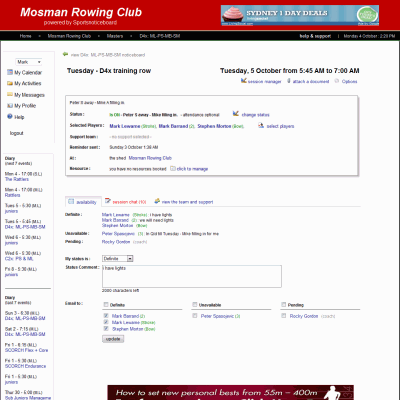 School sports team noticeboard


School sports resource management


Managing school resources has been made easier now by using the sports noticeboard.

Coordinators, managers, captains and teams can now :
Book a resource like a court online
Manage resources more effectively
Cancel a booking to let other use it
See which resources are being used the most
Put coaches and support staff as resources to see hours worked

Bookings made on the sports noticeboard can be seen by each team on their team sports noticeboard allowing maximum information flow.





Want to find out more or have any questions? click here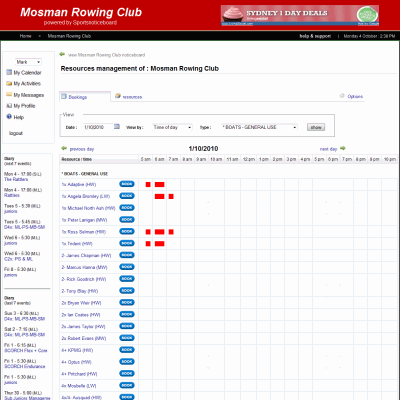 Sports resource management







| | | | | |
| --- | --- | --- | --- | --- |
| | Noticeboard Functionality | Sports Venues | Clubs | Noticeboards |
| | | | | |

Made in Sydney, Australia

© Copyright Sportsnoticeboard 2012. ALL RIGHTS ARE STRICTLY RESERVED.